Yoshiyuki Hatori (羽鳥芳雪, Hatori Yoshiyuki) is one of the main characters in Sekai-ichi Hatsukoi. He is the best friend, editor for, and lover of Chiaki Yoshino.
Appearance
[
]
Hatori has short brown hair, dark blue eyes and is taller than his lover Chiaki. He is usually seen wearing a collar suit with a tie, or a simple suit, even at home or while cleaning and cooking at Chiaki's house. Hatori is the second-editor in chief of Emerald department of Marukawa Publishing company and is known as one of the best editors in Emerald.
He is excellent at his job and demonstrates even greater skill at cooking and housework. Hatori has a very calm demeanor about him, with a "no nonsense" attitude. He is usually seen being very strict with his authors or, more importantly, his long time best friend and lover, Chiaki. Despite his serious attitude, he is still very caring about those whom he cares about and is commonly perceived as a good guy.
Relationship
[
]
Chiaki is Hatori's childhood best friend, mangaka, and lover. The two have known one another their entire lives and attended the same schools as children and teenagers. This followed with them even attending the same college as young adults. When Chiaki was having a hard time passing college due to his focus on manga, Hatori assured Chiaki that he would take care of him if he found himself unable to do so on his own. When seeing manga writing was going to be Chiaki's set future, Hatori chose to be a manga editor in order to continue staying by Chiaki's side.
Chiaki was oblivious and completely unaware of Hatori's feelings for him until Hatori was unable to retain his feelings any further and kissed Chiaki as he slept on his couch. (In the light novels, however, Hatori goes beyond simply kissing him, completely forcing himself on Chiaki.) The kiss causes Chiaki to feel betrayed at first due having earlier witnessed Hatori and Yuu, Chiaki's other best friend, in a seemingly lovers position while arguing. This assumption that both Hatori and Yuu are dating causes him to feel like a mere replacement.
Hatori soon decides to quit as Chiaki's editor due to the guilt he feels for kissing Chiaki against the latter's will, feeling that he has compromised Chiaki's trust in him and that it would be best for him to leave Chiaki's life. This however, causes Chiaki to panic and realize that he doesn't want Hatori to leave his life regardless of any rough patches between them. Desperate to keep him by his side, Chiaki demanded that Hatori kiss him in order to see if they could make a relationship work. When seeing kissing did not bother him, the two began dating.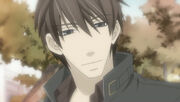 Hatori later feels guilty about seemingly forcing Chiaki into a relationship. When he later tells Chiaki that he "knows" that Chiaki mistook feelings of friendship for love and begins to break up with him, again feeing it to be best, Chiaki yells at him to not make assumptions about his own personal feelings. Chiaki insists that he could never date a male friend out of sympathy or compassion no matter how much he may like them, and that he is dating him because he genuinely wishes to. The two then make up as they promise to make more of an effort in the relationship. They undergo various misunderstandings and a complicated love triangle with Yuu, but always overcome them together and often verify that they love each other (although Chiaki often does so indirectly through his actions rather than words).
Hatori never intended to confess to Chiaki in the first place for fear that it would damage their current relationship. As of the second season of the anime, Hatori and Chiaki have been dating for a year.
Hatori is very loyal to Takano and has a good working relationship with him. This is based on the fact that he always gets his work done, informs him about the authors progresses and does things on time.
Hatori was one of the first people Ritsu meets when he first worked at Marukawa. He is very friendly to Ritsu, giving him advice about Takano and ideas if he is struggling with work.
Hatori and Yuu first met in middle school through their association with Chiaki. Almost instantly, the two failed to get along and there's a tension between them that can quickly be noticed. This is due to how they're both in love with Chiaki and are very much aware of their feelings for him. They pretend to have a good relationship only because Chiaki wants them to get along and put up an illusion of a good friendship strictly for his sake. Although Hatori doesn't like Yuu, he respects Yuu's skills as an assistant mangaka and will ask Yuu to help Chiaki whenever Chiaki is in trouble.
Trivia
[
]
Hatori is very popular with the ladies, especially with the authors he has worked with. In high school, it is stated that he had many girlfriends.
He dislikes sweet food.
Hatori was shorter than Chiaki when they were kids.
He is the only child in his family.
His nickname "Tori" means "bird" in Japanese.
Hatori used to call Chiaki by his first name when they were younger, but they mutually stopped calling each other as such.
Hatori is the first one who Chiaki approached regarding whether to drop out of school or not.
His pairing with Chiaki is referred to as "Domestica" by the fans, referring to how Hatori takes care of Chiaki.
[

]